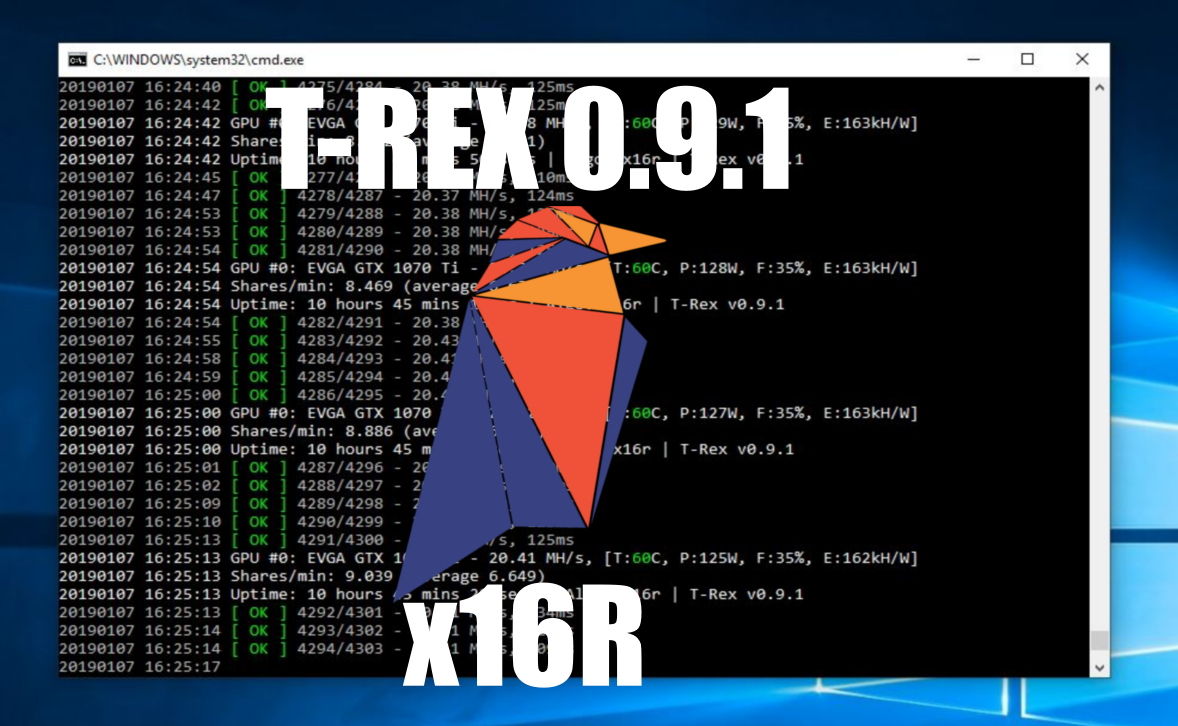 I just saw they had updated the T-Rex miner to version 0.9.1 on GitHub so I downloaded it this morning to try it out. Here is the T-Rex 0.9.1 Hashrate I am seeing for my NVIDIA cards mining Ravencoin (x16R).
DISCLAIMER: This site may earn affiliate commissions from links on this page. 
T-Rex 0.9.1 Hashrate
This benchmark is for the following cards. GTX 1070ti, GTX 1070, GTX 1060 6GB, GTX 1060 3GB, and GTX 750ti . Here is my 3 hour average hashrate for my cards. 
| | | | | | |
| --- | --- | --- | --- | --- | --- |
| ALGO | Worker | 5 Min | 30 Min | 1 Hour | 3 Hour |
| X16R | EVGA_GTX1070ti | 26.12 Mh/s | 21.41 Mh/s | 20.12 Mh/s | 20.37 Mh/s |
| X16R | EVGA_GTX1070 | 15.54 Mh/s | 13.84 Mh/s | 14.13 Mh/s | 16.72 Mh/s |
| X16R | EVGA_GTX1060_6GB | 13.24 Mh/s | 12.42 Mh/s | 11.25 Mh/s | 11.81 Mh/s |
| X16R | EVGA_GTX1060_3GB | 9.11 Mh/s | 10.99 Mh/s | 10.36 Mh/s | 10.79 Mh/s |
| X16R | EVGA_GTX750ti | 3.9 Mh/s | 4.15 Mh/s | 3.97 Mh/s | 4.14 Mh/s |
Power and Overclock settings.
These are my power and overclock settings. For overclocking and reducing the power I use the free AMD program afterburner. You can find this easily online with a google search. 
1070ti = Power 70%, CPU +69, Mem +0
1070 = Power 70%, CPU +69, Mem +0
1060 6GB = Power 65%, CPU +69, Mem +0
1060 3GB = Power 65%, CPU +69, Mem +0
750ti = Power 100%, CPU +0, Mem +0
Summary
Comparing to the last T-rex 0.9.1 Hashrate top the version last version I benchmarked (0.8.9) I do see an decent increase on all my cards for the x16R algorithm. I have not ran a full 24 hours yet. Usually I go back and forth between Zenemy and Trex for my miner as they both seem pretty comparable. But lately I am really liking T-rex miner for x16R.
One thing I want to mention is that both Z-enemy and T-rex are closed source miners. I use these on my mining rig which has no personal information or keys. This is just a precaution I like to take with closed source mining programs. I have not heard anyone complain about these two programs, but I juts like to play it safe.  (Just like I don't like leaving any coins on an exchange 🙂 ) 
Sorry I don't have any GTX 1080TI or the new 20X0 series cards yet. I hope to start buying some soon and will include them once I do. 
More Ravencoin info in case your interested: 
Here is a post if you were curious about adding a Ravencoin view-only address to the QT wallet. Also made a youtube video of it here.
Also if you are interested in mining Ravencoin, here is a beginners guide to get you started.
If you would like to get more information about Ravencoin, you can also go to ravencoin.org to find more detailed information about the project. Its a great project and has a nice community of follows that always seem willing to help out. They also have a great WIKI as well. 
SIDE NOTE:
On a side note I just wanted to say thanks for visiting the site. This is a blog that me and my son are playing around with for fun. It is a great way to goof off and post some pictures and stuff that we enjoy chatting about.
I am not sure if anyone else would be interested in starting a blog, but for me it is a fun experience. If you are interested in blogging why not give it a shot. Its really easy and cheap to get started. If you have any questions about it just hit me up on Facebook. While we do it just for fun, I see how it might be profitable if you put some time into it. 
Also you will probably see some grammar issues and misspellings (I am sure those are me and not my son). 
That concludes my post for "T-Rex 0.9.1 Hashrate for Nvidia GPUs"