How to get free bitcoin and dogecoin while drinking coffee!
I was goofing off on the internet a while ago and I found these sites. They allow you to play hourly for a chance to win free Dogecoin and free Bitcoin. The minimum amount you can win is small, but you still get some. If your lucky who knows maybe you will win a larger amount. I have the links bookmarked on my phone and play them when I am bored.
You first need to have a bitcoin and dogecoin address. There are quite a few different wallets out there for android, IOS or your desktop. But one of the easiest ways I found to get one when starting out is to download a mobile wallet like Jaxx. Again there are many other mobile wallets out there. I just am using jaxx as an example as it does multiple coins and I have used it myself. Once you install JAXX you can open it and chose the crypto currency wallets you want and you will now have a receive address for those coins that you can put into the links below.
Then you can go to the following sites and set yourself up to play by adding your payment address (Your Receive address). Never share your private Key! If someone has your private address they can take your bits of bitcoin!
Does it work… I have been paid a little over 600 Dogecoins so far.  (Worth a couple bucks now.) The bitcoin will take a while to payout anything as the fractions are so small and you can also gamble them. But if you hit the lucky jackpot, who knows. They also have a weekly drawing that gives the winner a large amount. The more you play the more entries in the lottery. Or you can spend your earned bitcoin on tickets. Lately the first place drawing for the bitcoin has been over 1 bitcoin. WOW, that's like 10k. That would make my day.  Its been fun to play so far and when I am bored in the morning drinking my coffee I find myself clicking the bookmark and giving it a shot.
Here is my Jaxx app on my phone.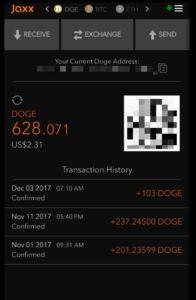 See the comment about referral links below. If you refer you friends you can get extra spins on the drawing for a good amount of bitcoin. I left my referral link in the links below, it would be cool if you used them when you signed up.
Here are the links if you want to try it.
Again they have a referral program . So you can share the link with your friends to get more entries in the drawing or something like that.  When you go to the menu on the link from the program on your phone it has your referral link. ( and again I used mine in the above links) If you want to share with your friends you would want to grab your referral link, not share my links. Then you can get the referral bonus.
If I win anything substantial I will update this and let you know. Let me know if you win anything, as I am curious.  I see they also allow you to deposit bitcoin. I have not tried that so can not say if it is safe or not. Do that at your own risk. I have only done the free spins for coins.
Good luck!!!!!!!!!!!!!!