Here is a quick review of my new ORICO M200 mSATA drive I bought to replace a smaller one in my Dell XPS  2720 AIO Touchscreen PC. I recently picked up this PC to use as a DVR for my home security camera system and it had everything I wanted except for the fact it had a tiny 32GB mSATA drive in addition to a 2.5 inch mechanical drive. So needless to say I was ready to do a XPS 2720 mSATA upgrade.
Initially I was looking for a tried and true Samsung EVO mSATA, but being older technology I did not have a lot of choices and the Samsung's I found were marked up pretty high.  So I tried out a ORICO mSATA that had no reviews on it yet, so thought I would add my own review and include a little benchmarking in case others find it useful.
ORICO M200 mSATA Review.
The packaging
Here is how it showed up. It appeared to be well packaged, but it did have a rattling sound inside like something was moving around. It almost seemed to be to much noise for the mSATA drive to be moving.

What's rattling inside?
So I opened it up to see what was inside and found a pleasant surprise. Not only did the ORICO mSATA drive include screws, they also INCLUDED A SCREWDRIVER! With all the drives I have bought lately that can not even bother to include screws, here is a drive that not only includes 3 screws but also includes a screwdriver. It almost seems absurd and I have to say at first I wondered if it was by accident. This was a little above and beyond. Great job ORICO!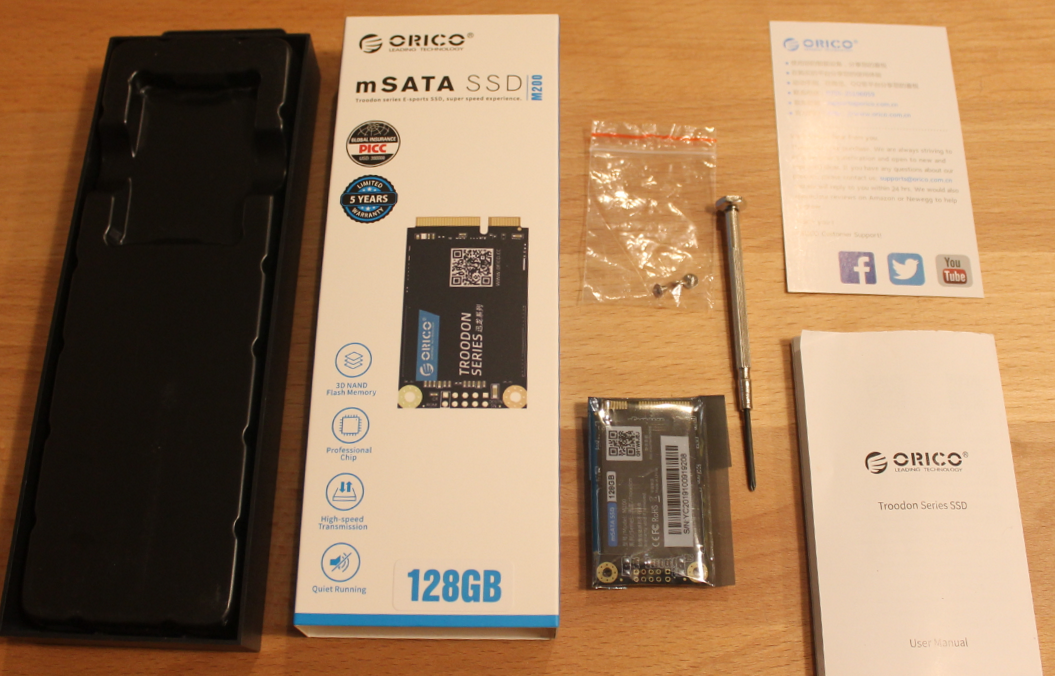 Here is a closeup front shot of the ORICO M200 mSATA drive.

Here is a closeup of the back of the ORICO M200 mSATA drive.

So I went ahead and removed the drive ORICO mSATA drive from its static packaging and popped it onto my Dell XPS 2720 motherboard. Loaded up Windows 10 onto it and decided to run a few benchmark tests on it. Here is a quick shot of it installed on my motherboard of my DELL XPS 2720.

Benchmarking
One of the things I was looking at when deciding on a mSATA was the read/write specs. This drive was being listed as 560MB/s Read, and 516MB/s Write on a retailer website, but when I went and checked the ORICO website for this drive size its listed at 550MBs/489MBs.  Not a big difference, but thought I would mention it. Since I was looking for a smaller 128GB sized drive as it would only be used for the windows OS and a single program I was focused on speeds in that drive range. I noticed that drive speeds varied between the sizes for the same models.
I also noticed this one was advertised as 3D NAND while some others were not. This drive is listed as being mSATA 3.0 6Gbps and is using TLC Flash. I ended up going with this 128GB drive as it was cheap and since this was just being used for a DVR I really didn't think I would need a larger boot drive. I have the 3.5″ mechanical drive that will be used to store the videos.
Here are the results I got doing a drive test with CrystalDiskMark.

As you can see it scored really well. Pretty close to what was advertised a t the retailer I had checked and above what the ORICO website listed. For reference you can find specs on the ORICO website here.  Needless to say I was very pleased.
SUMMARY
What can I say besides this drive has exceeded my expectations so far. My boot time on this PC is now under 15 seconds. It has fast drive speeds. It came with a free screwdriver and also included not 2 but 3 screws. (I guess in case I lost one?) The price point of this drive was right in line with a lot of cheaper drives so I feel it was a good value. The only thing so far is that this is my first ORICO drive. I am hoping it has some good longevity and lasts me the life of this pc.
Speaking of longevity, I should have mentioned that I saw it stated it has a 5 year warranty or a certain amount of total bytes written, whichever comes first. In the case of this smaller drive that looks to be 50TBW while the larger 1TB drive would be 400TBW.  You can find that info on their website. After all is said and done, I am happy with this purchase and have no buyers remorse.