MIHEAL Led Light strips review.
Here is my review of the Miheal LED Light strips. Just so you are aware, before I received these I was new to LED light strip craze. Spoiler alert : Now I am hooked.
Disclaimer: This post is for entertainment purposes only. This product was supplied to me free of charge. That did not influence the opinion in the review. Also this site uses affiliate links. This means I may make a small amount of money at no cost to you if you buy something after clicking a link on this site.
The Review!
Ok, back to the review of the Miheal LED light strip! I had not heard of this brand of light strips before and was curious when I was doing the unboxing. I have to say I am kinda a RGB nerd with my computers lately and really like having RGB fans and such. So I figured these would be right up my alley.
The unboxing.
This is the link for the Miheal LED light strip I am reviewing.  Here is what is included in the box.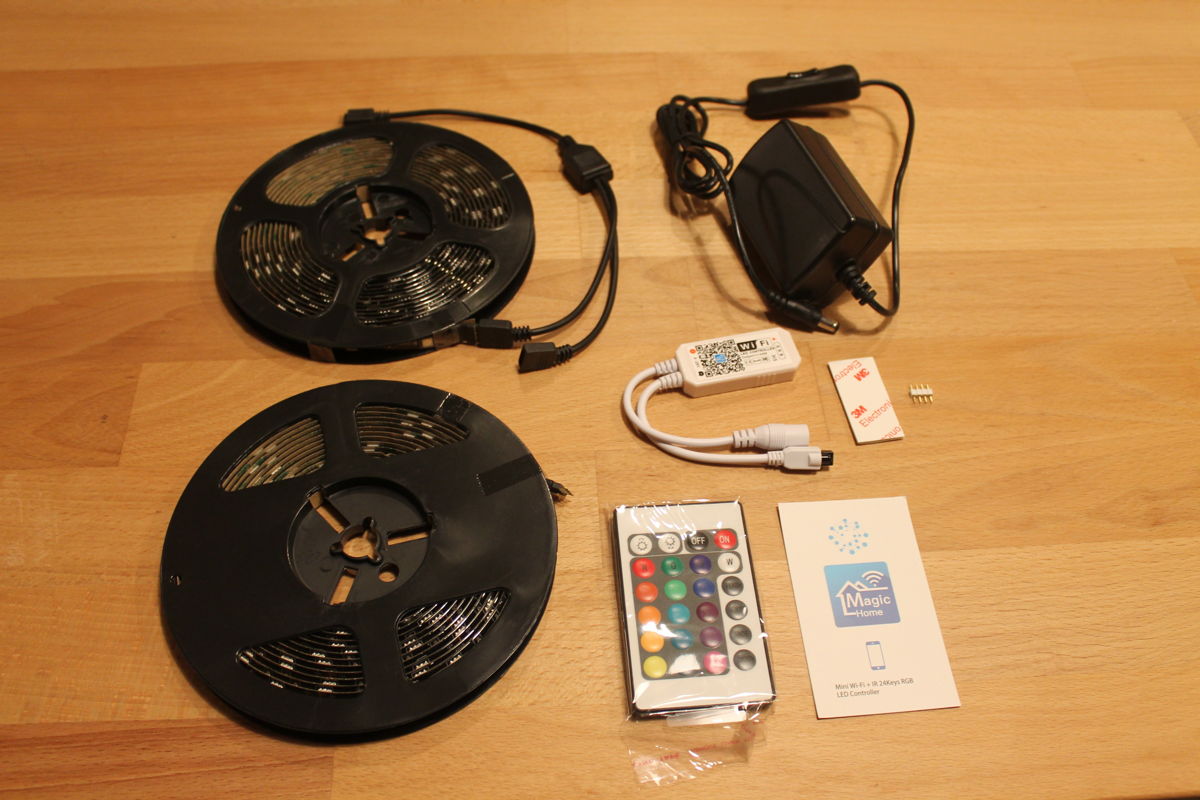 It came with 2 spools of 10M 505o RGB SMD LED light strips (About 16′ 4″ each for us Americans) , A wifi dongle, IR remote, Power supply, Instruction card, 4 pin connector, and some 3M double stick tape.
The strips themselves looked pretty heavy duty, with a nice clear thick coating and a 4 pin connector on the end.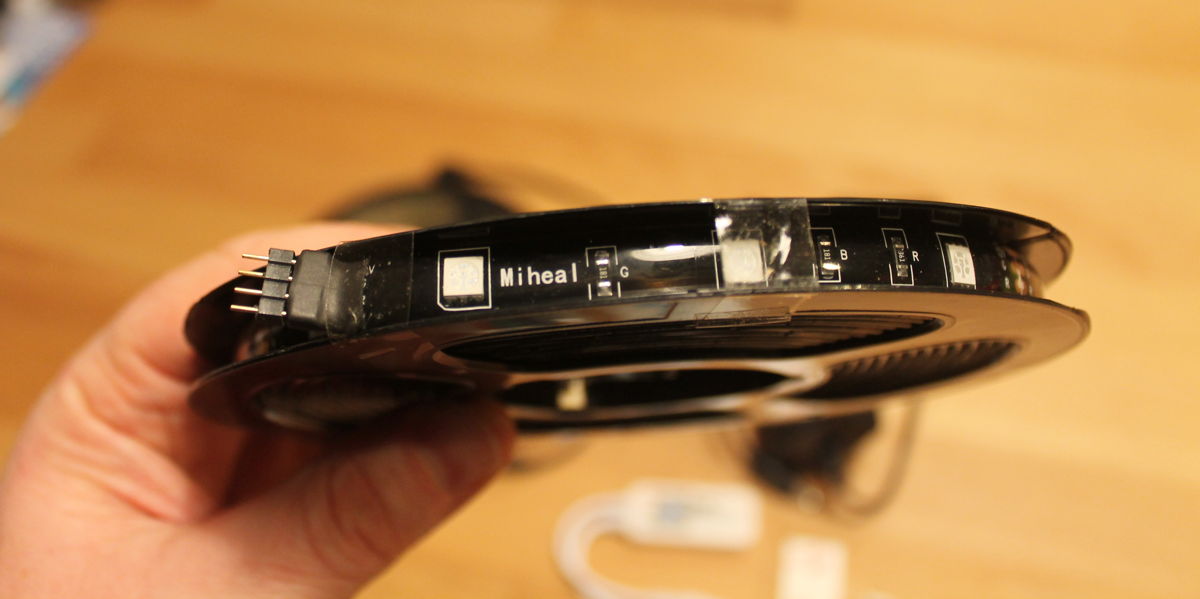 It also had a position marked every so often for cutting the strips in case you need it to shorten the strip.  You can see the cutting marks in this picture and it directs you to cut across the copper pads. Its hard to see in this picture, but there is a really nice thick coating across the strips for protection.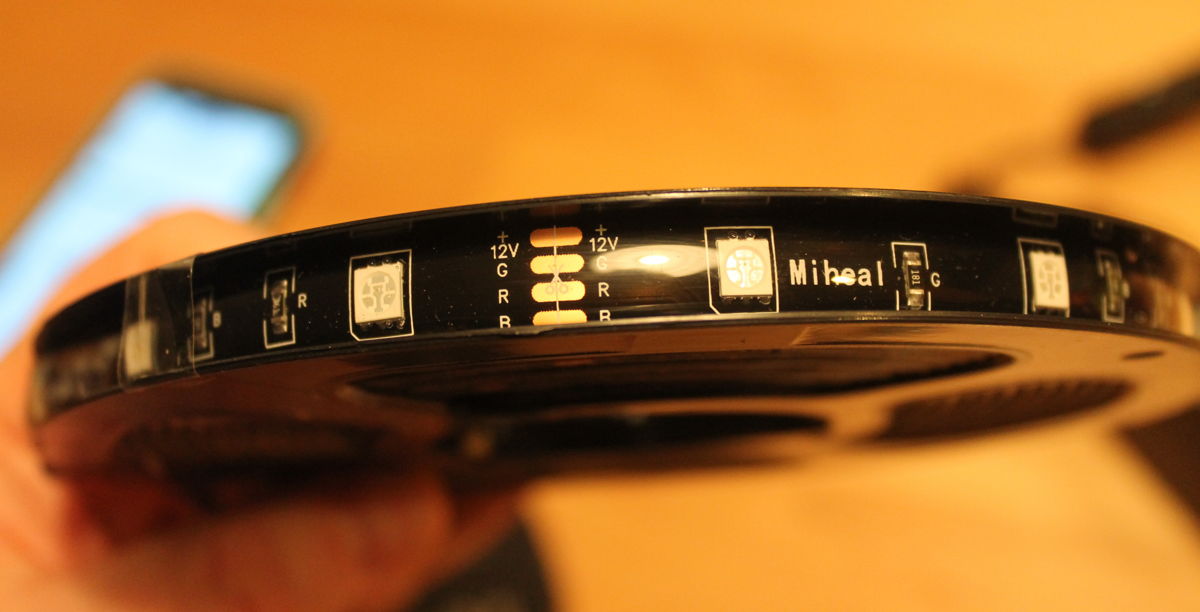 Miheal LED Strip Instructions:
They included a card that had a QR code for the App and for the installation instructions. Personally I like to see stuff like this rather then a booklet everyone will throw away. I used the card to download the instructions via a QR code reader. The card can also be used for downloading the APP, I tested the Android version, but there is also an IOS version.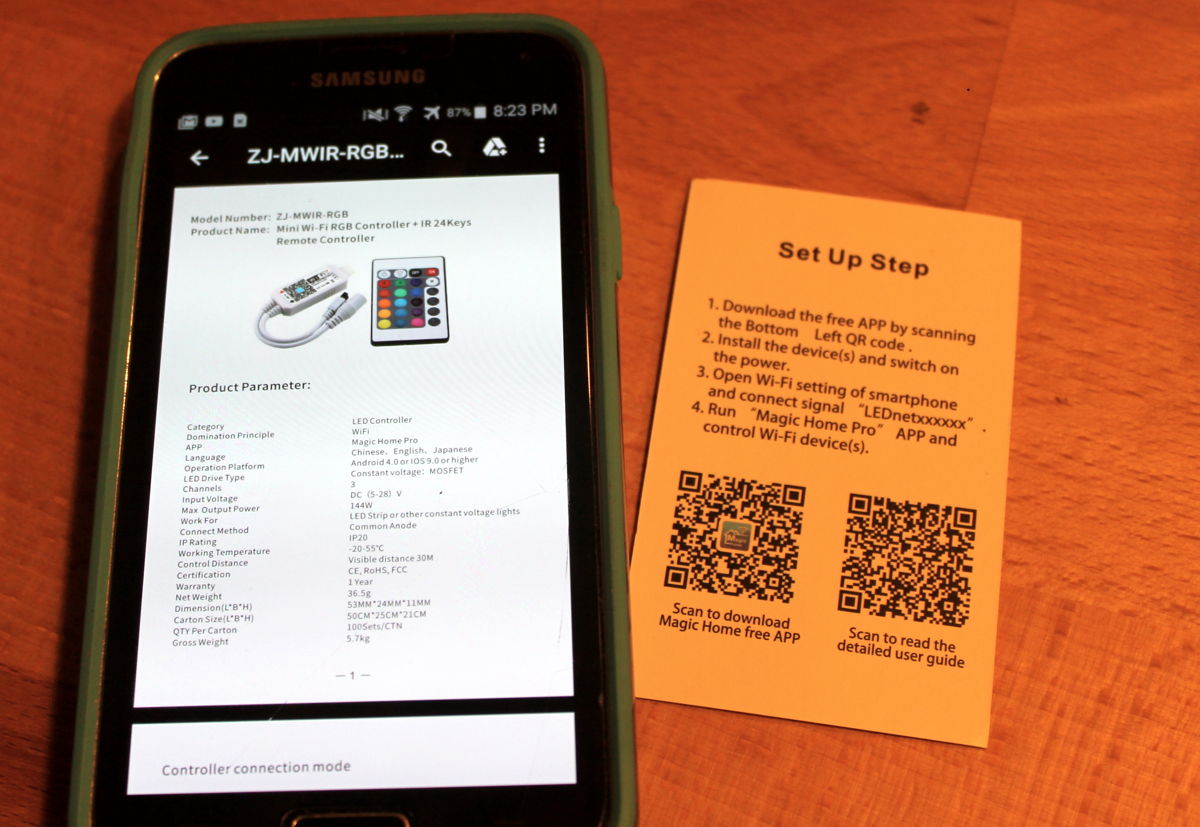 The initial test
Following the instructions it was really easy to get set up to the wifi and get the light strips plugged in. First thing I did was start using my phone to play around with the colors. You can use the app to have preset colors to come back to and just use your thumb on the color wheel to change the colors.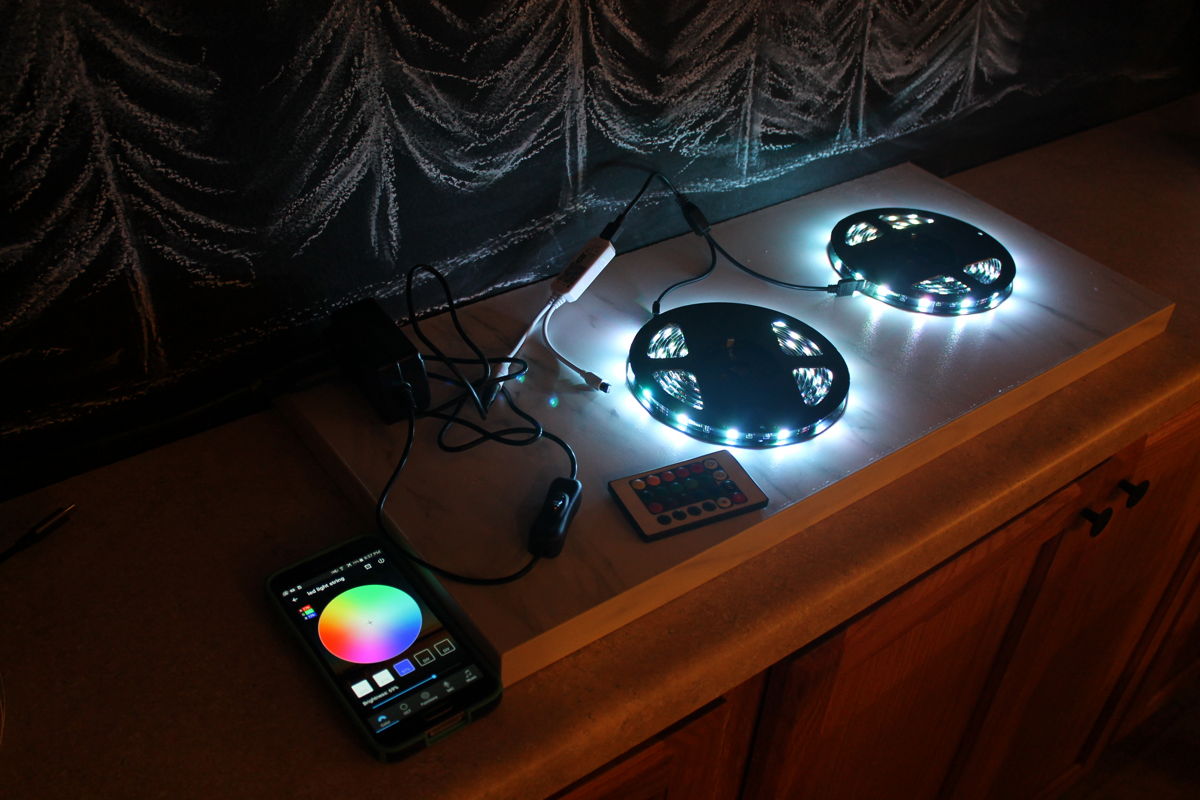 The app also has this really cool timer feature. You can set it to turn on at a certain time and then turn off at a certain time. This would be great to have it wake you up every morning.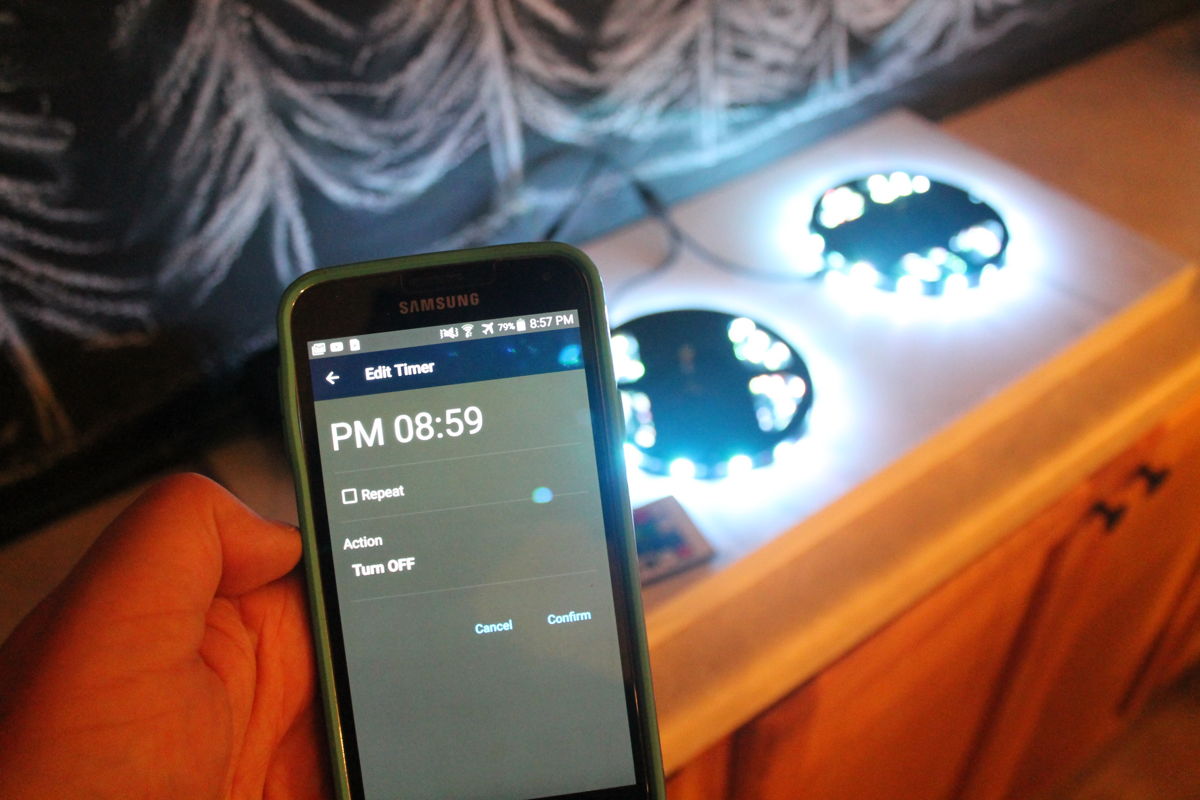 It also has a neat function for setting the color tone to natural colors. My wife really liked this feature. What was funny was at first when I starting talking to her about these I could tell she wasn't interested at all. But as soon as I pulled them out and started playing with the colors all of a sudden she was interested and started asking where I was going to put them. I could tell she was thinking about putting them in the kitchen. (Spoiler alert). Anyways you can use this to adjust the warmth of the light to make it more natural.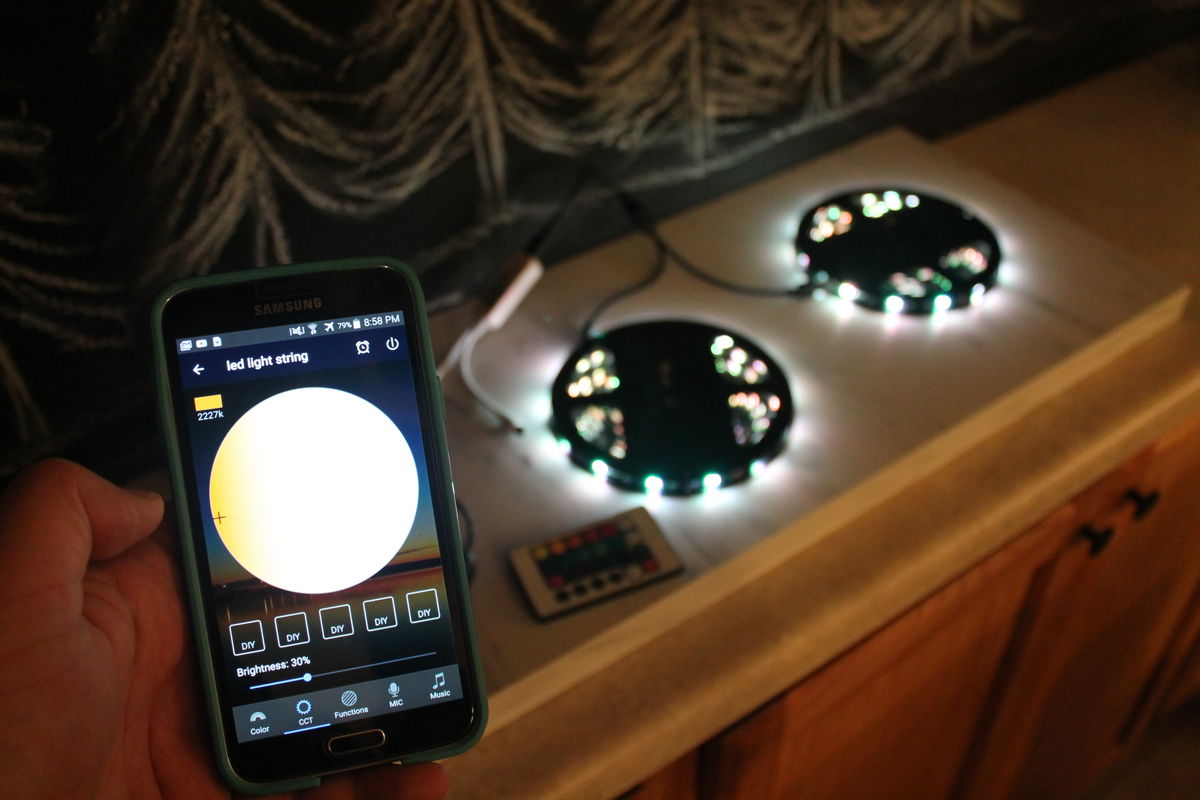 You can also use the included remote to change the colors, which I played around with as well, It had some cool color changing affects also. I wont post all my color changing pictures, but they had some really nice options. Also you can adjust the brightness up or down which was really nice to soften the light.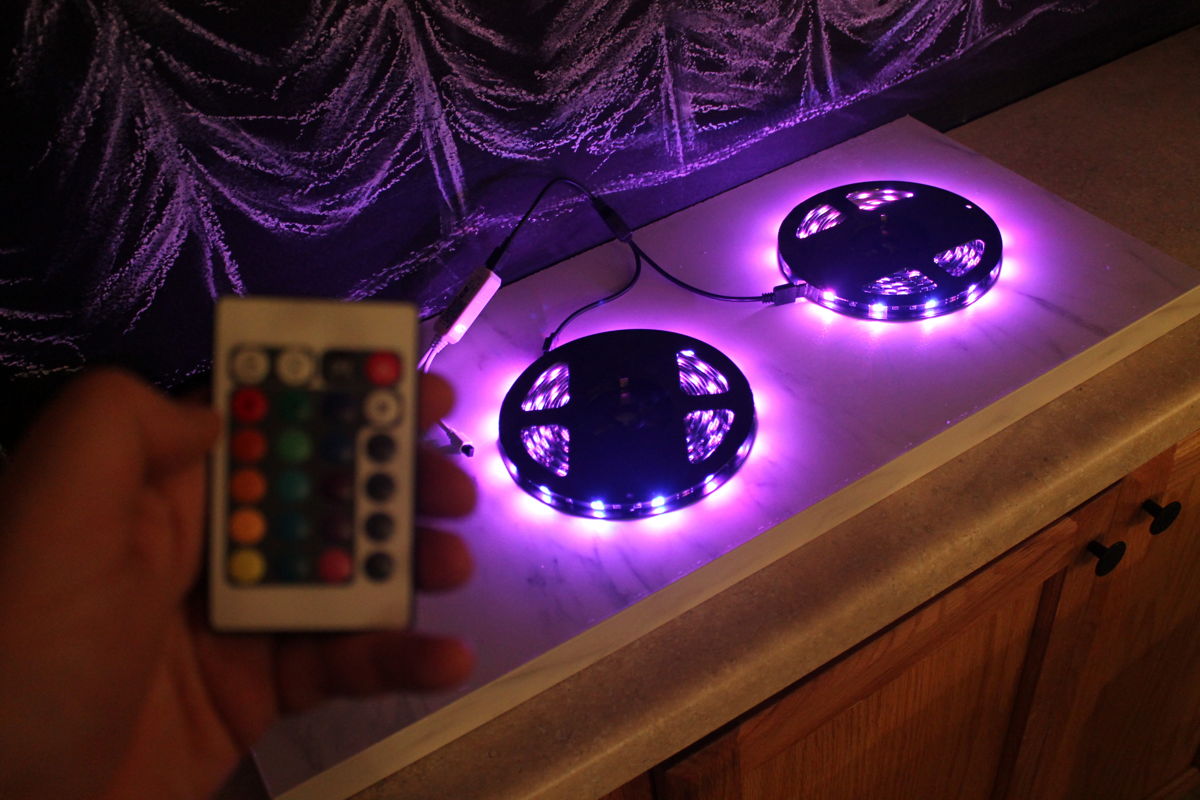 Rolling out the Miheal LED strips.
I decided to lay these out on the floor to see if any LEDs were not working. (They all were fine, no issues.)  Plus I wanted to actually measure the strips. They were ~ 16 foot 4 inches each.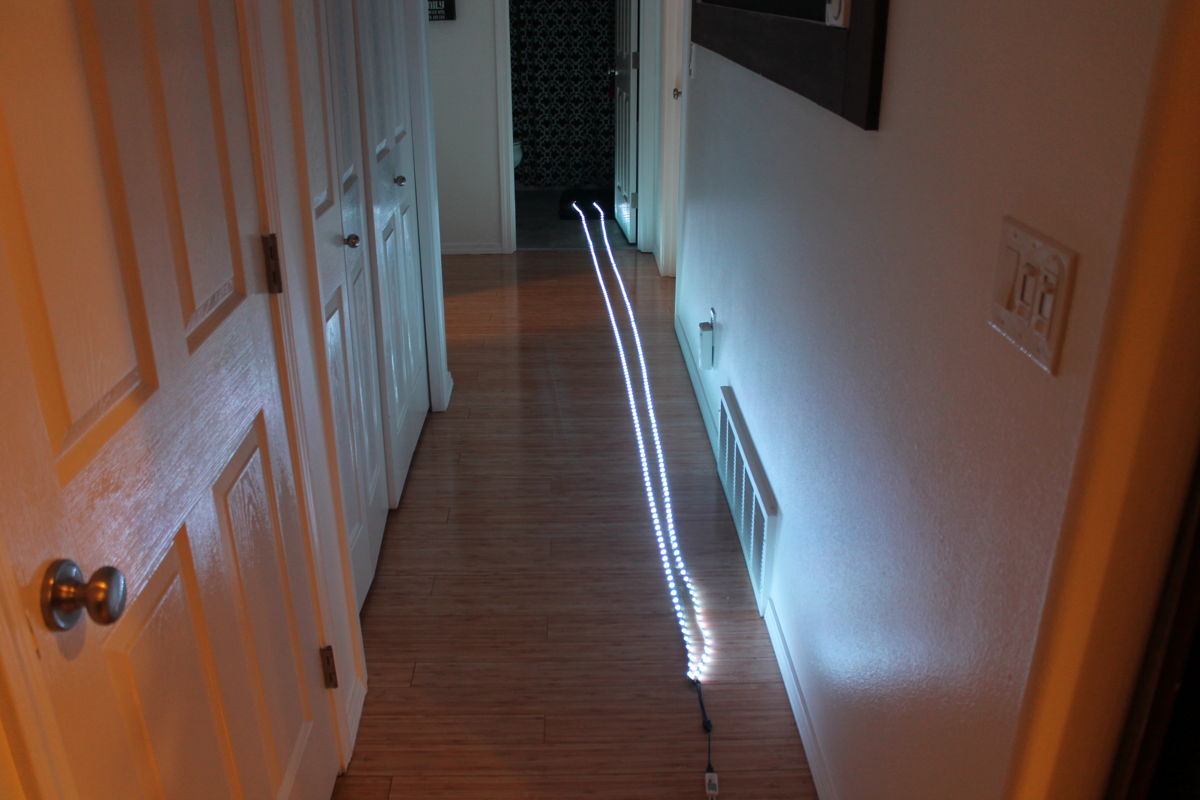 Basically the way they work is both strips plug into the power/wifi dongle. This means you would want this somewhat in the center. The strips also have a connector on the other end. I decided to daisy chain the strips together to see if they still worked. They do work, but the voltage drop does cause the LEDs to dim as they get to the end if you have the second chain plugged into the end of the first chain.
So I recommend doing it per the instructions and they will look like the picture above. The picture below is the daisy chain in case you were wondering.
It was daisy chained at the far end and one long continuous string this way. You can see they get dimmer toward the end on the left as it gets near you.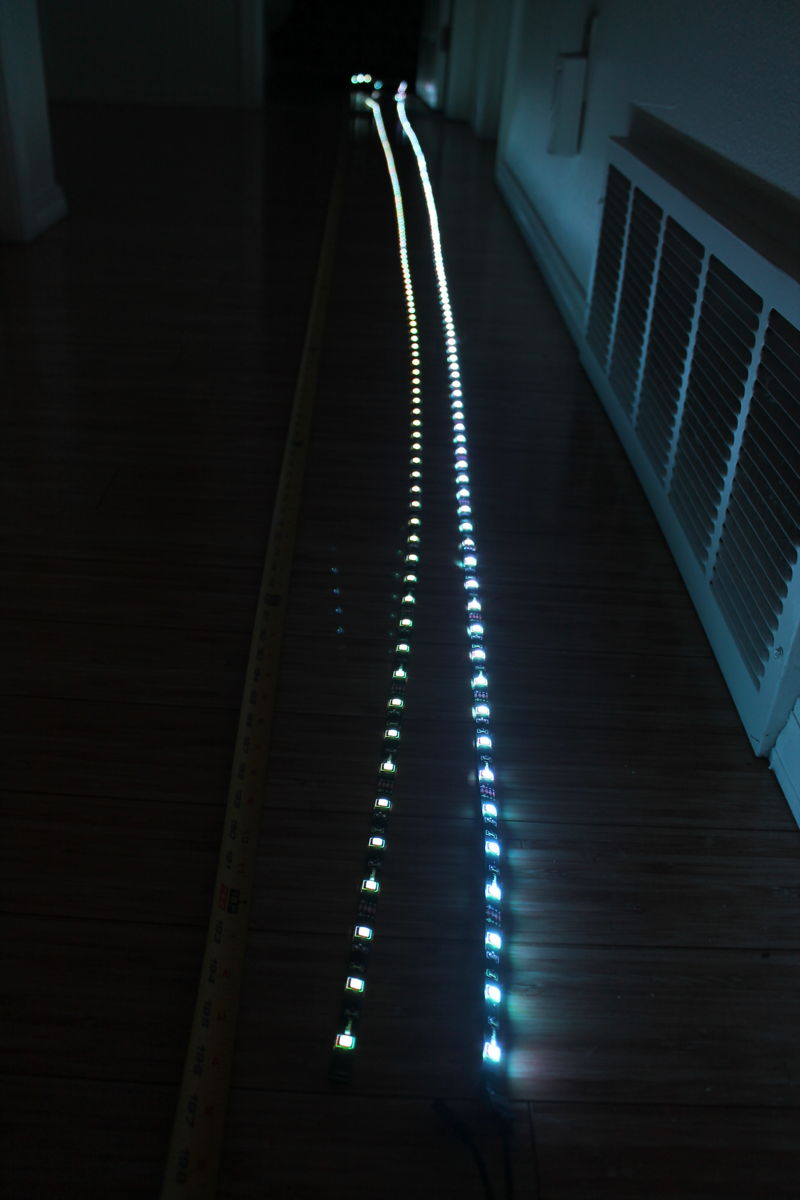 Installing the strips.
The back of the strips have a 3M tape applied, but in my case I wanted to move them around a bit until I am sure I know where I want them. But once I am ready to permanently install them, it should be pretty easy to just peel the backing off and stick them where I want. I also see they make little led light strip holders like these that might be helpful if you want something a little heavier duty then tape.
The first place I put them was above some cabinets across from our kitchen. Here is what they looked like. Yes my wife likes Roosters.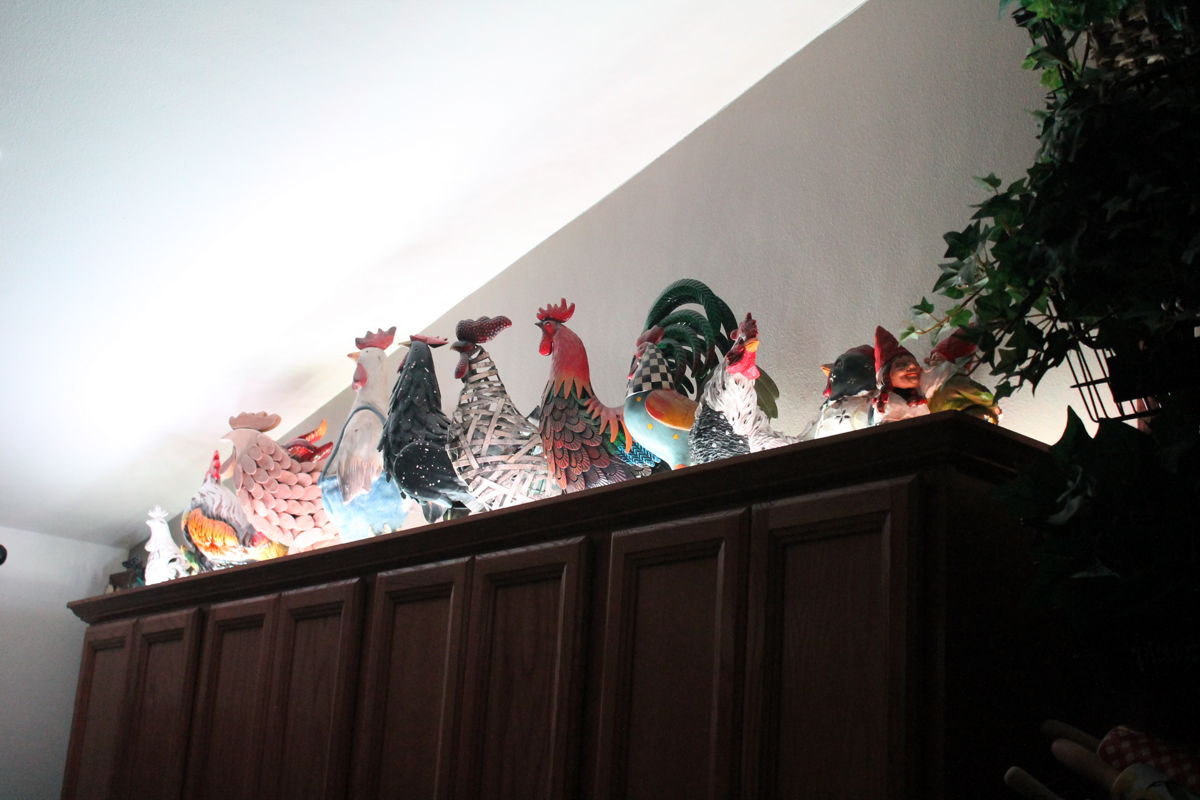 After trying that I moved them to the cabinets above the stove in the kitchen. This was really nice as I could plug them into the same outlet as the microwave and the cord was hidden. Here is how they look with a few separate colors.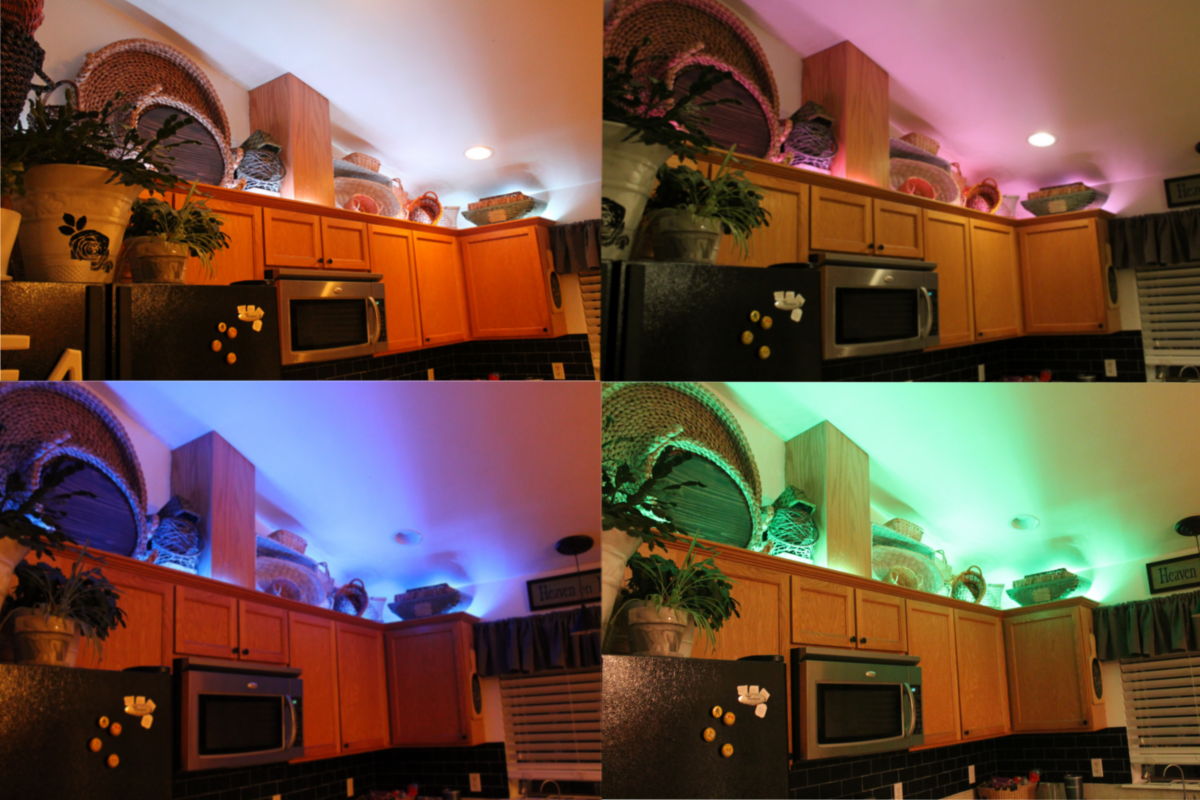 Summary
These Miheal LED Light strips are a blast. I did end up trying them in the bedroom above our wardrobe and while I really liked it, my wife wanted them in the kitchen. So that's were they ended up. We use them pretty much every night as it creates a great background light for the room when we are watching TV at night and we don't get the bad reflection from the normal kitchen lights in the TV.
These are also Alexa enabled, but I did not do any testing of that. But it seems to be a nice plus for those who use Alexa smart home devices.
As for ease of installation it was super easy to just plug them in and get them running. I have not permanently mounted them yet. They are just draped above the cabinets for now. But I plan to go back and do the permanent mount soon. I also see so many adaptors for LED light strips like these to make 90 degree corners.  I am sure it will be easy to mount. But for now I am just happy with how they are laid up on top and are working great.
My wife likes these Miheal LED Light strips so much she just hit me up to buy a set for my brother in law. I guess I mention that because it was kind of nice to see that these were something she enjoys as much as me. Usually with the tech stuff its just all me or my son. (He also wanted to use these in his room 🙂 ) So there may be another set coming soon.
Here is the youtube link if you want to see the video of them : YouTube Video
Here is the Amazon link for them. Miheal LED RGB wifi light strip (Sorry had to remove direct links, but you can still search and find them)
Anyways I hope you enjoyed the post, If you liked these you may want to check out these LED RGB fans that I just reviewed for your PC.