I am always looking out for a new pair of earbuds to try out, and today I am reviewing the Aukey earbuds AUKEY-EP-T10(Upgraded) . These are a budget Bluetooth earbuds that have a few options that are usually seen at a higher price point.
For reference I purchased these on Amazon with my own money. I do have other earbuds I use such as the Anker Soundcore Liberty Neo and Galaxy buds. While these are working well, I always like to try some new brands and see how they compare. The model I am reviewing is the AUKEY "AUKEY-EP-T10(Upgraded)"
FEATURES:
Here are the features I liked when looking at the AUKEY True Wireless earbuds. Along with the really good price. (25 dollars on sale at the time of this writing).
USB-C charging
Wireless Charging
IPX-5 Waterproof
Touch control
7 Hour playtime
What's in the box.
The Aukey earbuds came in a really nice little box. I was impressed with the packaging. It did not have a cheap feel at all and felt like opening a more expensive set of headphones. What you get in teh box are Spare eartips, Spare ear wings,  a USB C cable and the users manual.

Battery Longevity:
I used them all day at work on multiple conference calls and listening to music. This was constant use and I think they are about right with the 7 hours. I think for me it might have been around 6.5 – 7 hours before they needed to be recharged. For me this was not an issue as this is about the same as my Soundcore Neo's. I am still in the habit of popping them back into the case for a few minutes between calls. So really these type of earbuds rated for 6 – 7 hours seem to last me all day and I have no issues with how long these last as it was what I expected.
Sound quality
I think these are right on par with my other buds. I feel like it may be a personal preference to choose between them as which one sounds best. The base was a little less pronounced than in my Liberty Neos, and seemed to sound more inline with the Galaxy buds to me. To me an over the ear headset always sounds the best, bit for earbuds I think these sounded pretty good.
Comfort
They feel a little larger than the Anker Liberty Neos and seem to be more shaped like the Galaxy Buds. See the picture below for the size comparison. The Aukey earbuds are comfortable to wear, I used the largest tips to block out the most surrounding noise. I think I am probably on the larger ear size I guess. I am around 5'11 and have a decent size head.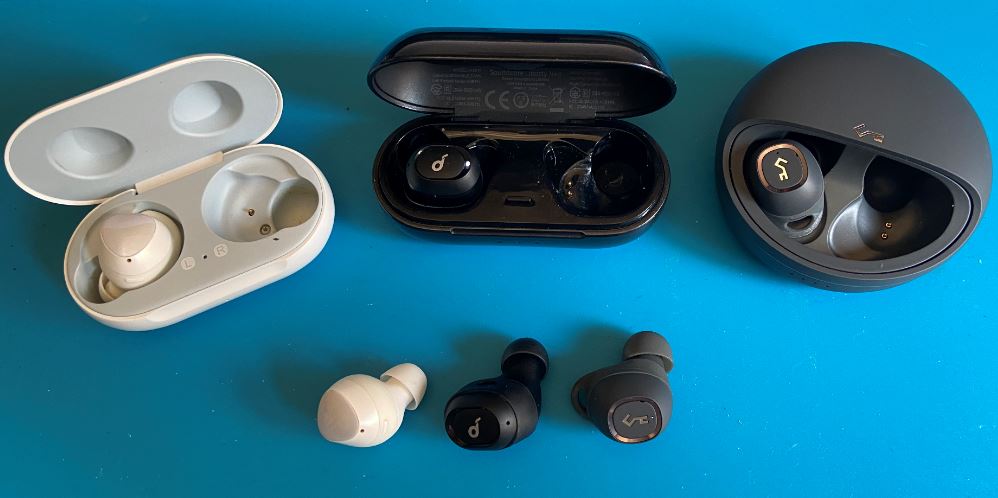 Here is a closeup of the size and shape  of the Aukey Earbuds in relation to Samsung and Ankers earbuds. Again you can see the Aukey Earbuds have a shape that more closely resembles Samsung galaxy buds.

Touch controls.
The Aukey really shined in this department. I really like the touch control and reminded me of the Galaxy buds. I thought this is much better than some earbuds like my Liberty Neo that have a push button.
Charging
USB-C is great! I wish my Anker earbuds had this, and it was a big reason I wanted these. I think this is a huge plus for earbuds in this price range. It also has wireless charging which I have not tried yet. But that's another great feature you usually do not see in this price range.
Usability
Day in and day out they are working great for me, but I will nitpick a couple items. First is they only connect to one device at a time. This is not just a problem with Aukey, but also my Anker and Galaxy buds.  My over the ear Bluetooth headsets can connect to a couple devices which is nice when wanting to have connected to computer and phone at once. The other is they are a little harder to remove from the case than my Galaxy buds and Anker buds. I think I would have preferred a more traditional flip open case with more room to get my fingers around the buds. But I am able to get them out and they may be more secure in this type of case, so that is probably a personal preference.
PROS vs CONS
Pros:
Price – Really good rice for these options.
USB-C and Wireless charging
Good sound
Cons:
Only connects to one device at a time
Could be a little easier to remove from the case.
SUMMARY
I give these earbuds two thumbs up. Mainly for the low price point and having both USB and Wireless charging. Plus they are a comfortable earbud to wear and have a quality feel and sound. I was able to walk a fair distance from my phone and they still maintained Bluetooth contact. I have been a big fan of Anker products, but I feel Aukey has really stepped up with these extra features.