SUBARU Impreza oil change
I was almost at the recommended 6k miles between oil changes on my Subaru Impreza so decided to change the oil this weekend. I tend to change it every 5k to 6k miles ( My Subaru recommends 6k per the manual under normal conditions). This is a little longer between changes over my other vehicles as the Subaru uses synthetic oil and my others use standard oil.  Since I was changing the oil I decided to snap a few pictures and mention a couple things I do to save a little money with my oil changes.
[Note: This post is kind of a test. While I don't like those articles that make you page through 40 pages of stuff. I also have broken up articles if they get to long and added more pages to make them hopefully load faster. This time I thought I would try just making one LONG post with lots of pictures. Maybe it will take way to long to load and be a pain. If so sorry in advance 🙂 But thought I would try it. ]
Disclaimer: This post is for entertainment purposes only. I am not a mechanic. I am not responsible if you injure yourself, or damage your vehicle. This is not an instructional post. I am just documenting myself working on my vehicle. 
Ok, back to my oil change post. I hope the page is not stuck loading.. … .. .. There are LOTS of pictures.
Saving money on oil…
One of the things I do to save money is to buy motor oil when its on sale. For the Subaru I tend to use the 3 brands below. (All 3 are Full synthetic which costs more then regular oil. )
Pennzoil Platinum 0W-20

– 5 qt Jug – BEST DEAL – I buy this on Amazon and while the Price varies, I also try to combine with the Pennzoil 10 Dollar rebate when available. My last purchase was on sale for $22.97 on Amazon, plus the $10 rebate ( I did get the rebate back by check in mail) Final price 5qt for $12.97. GREAT DEAL! Pennzoil has another 10 dollar rebate available on their website right now for January 1 – June 30th 2018. Limit two per person. I am keeping an eye on Amazon for a price drop and will grab a couple jug's. It was at $27 right now. I may just buy it at that price as 17 dollars would still be a great final price. But I have a little time and plenty of oil still on hand for the next couple changes, so will wait hoping to see it drop to $22 again.
Castrol EDGE 0W-20

  – 5 qt jug I purchased this recently for $19 on sale at Amazon. No rebate needed. Was just a great price. The price was back up last I checked. But a good one to keep an eye on.
Mobile 1  0W-20 –   (I buy this by the case at Costco when they have the 10 dollar instant rebate. I get the 6 qt case for $27.00 after instant rebate) I purchase this when I don't have any oil around that I have purchased previously on sale. They have this sale frequently.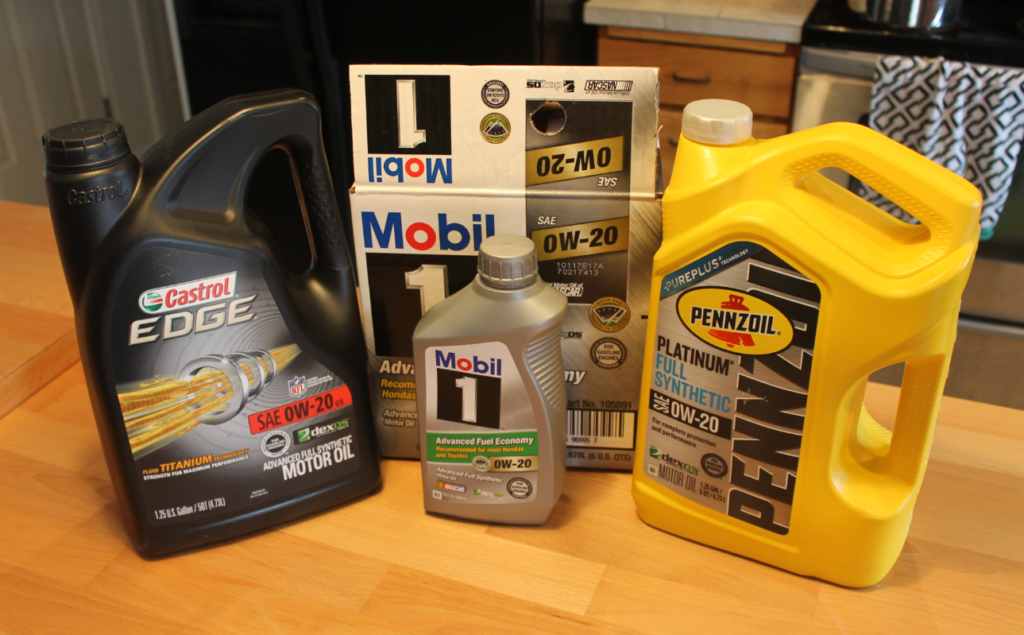 One of the jugs above will do the oil change, but they are 5qt. The manual says a full change (oil/filter) is 5.1 qt. When I checked after adding  5qt my dipstick read oil at the halfway mark. I have an open single qt and do top it off to the correct amount.
(For my other vehicles that use conventional oil, I tend to buy it locally at a Costco, Walmart or someplace. I guess I should try to get the price down on those oil changes as well. But I usually end up spending under 15 bucks an oil change for those vehicle. Its just the Synthetic oil is so pricy I try to bring the price down on it as well to be in the same ballpark as conventional oil.)
Saving on filters.
I just buy a case of filters for each of my cars. Then I always have one on hand. You can tend to get a cheaper price if you buy by the case. ( I do not change cars frequently (Buy or sell), so I do not worry about not using them up. )  For the Subaru I just bought a case at the dealership, I paid $59.40 for a case of 12. So it ended up being $4.95 each Part # 15208AA15A. For each of my Toyota's I have bought the filters online. I got a great deal for a case of Toyota filters on ebay, which is a great place to check. I think it was around 3 bucks a filter. For the 4runner I think I got them on Amazon. One thing I have found also is my local dealerships will usually match price with Amazon. So if you are at the dealership and want something right away its worth looking at the price online and asking them if they will match it. I have yet to have them say no. I also bought a few drain plug crush washers for the Subaru while I was buying the oil filters (Part number 803916010 But I cant seem to find them in the garage at the moment).  They must be hiding with all my missing 10mm sockets I can't find.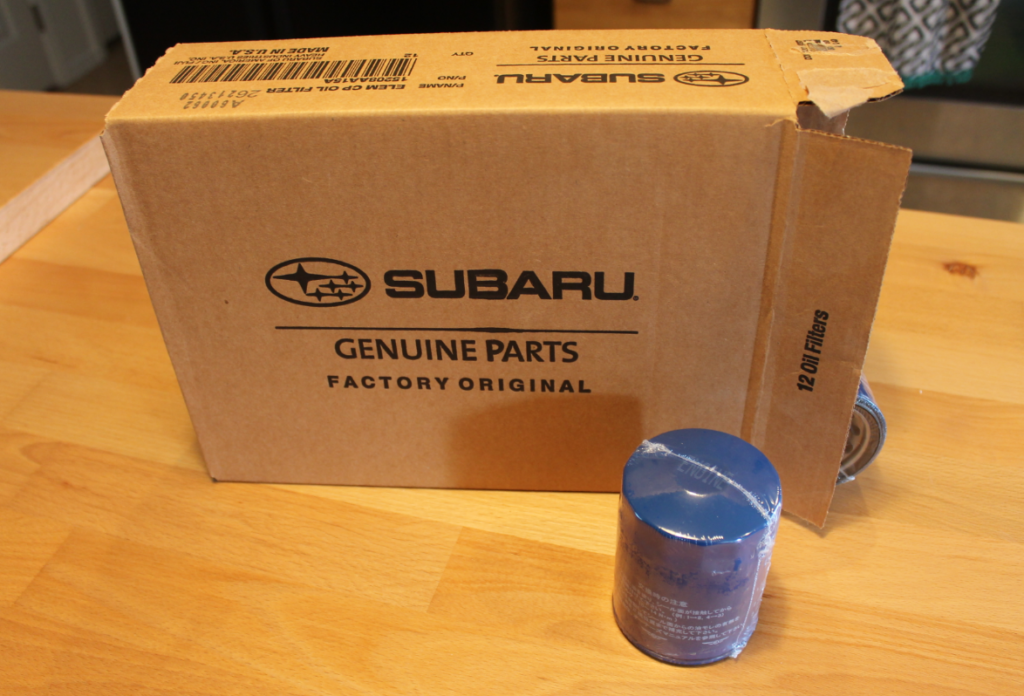 The Oil change….
Not much exciting here. Just the oil change. But I will throw in some pictures. The warning : I am not responsible if you try to change your oil in your car and injure yourself or damage your car. This is not how you should do it, its just how I changed my oil. This is not a guide. I may have missed an important step when writing this. I wish I didn't have to say stuff like that, but sometimes feel like its needed. If I did miss a step feel free to let me know 🙂
Things everyone should have if you like to work on cars: RhinoRamps

. I just drive right up them so I can get underneath to the drain plug. Of course I made sure my vehicle was in park and the e-brake was on and that there is no way it can fall and crush me when I was under it. If you have a truck or SUV you might not need them (I don't need them when changing oil on my 4runner.)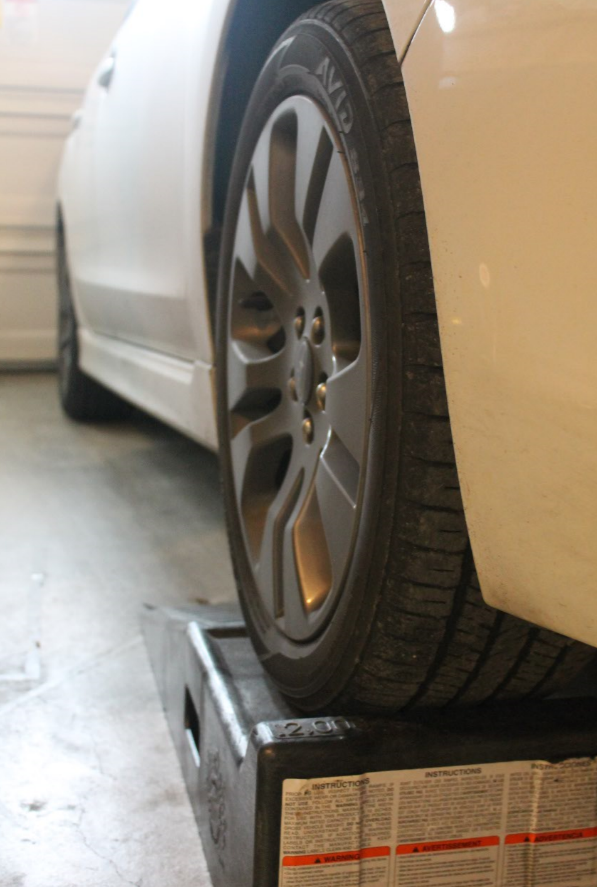 Popping the hood and it looks like this.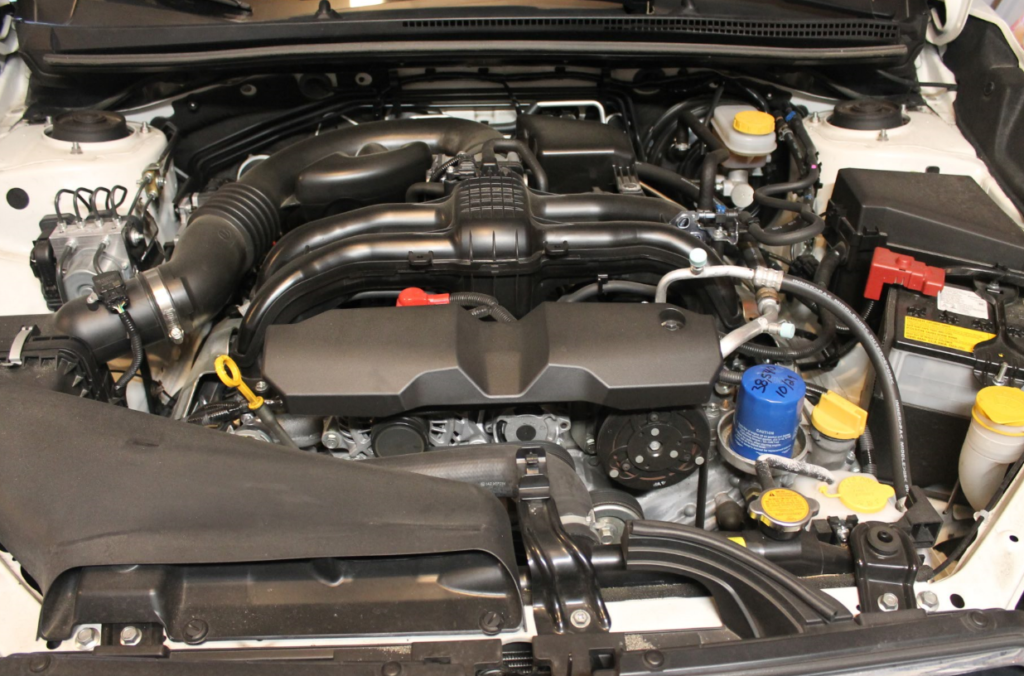 I put my container underneath and remove the drain plug to drain out all the old oil. Here is my oil drain plug, it uses a 17mm socket. My engine had been running previously and the oil was a little hot when I drained it.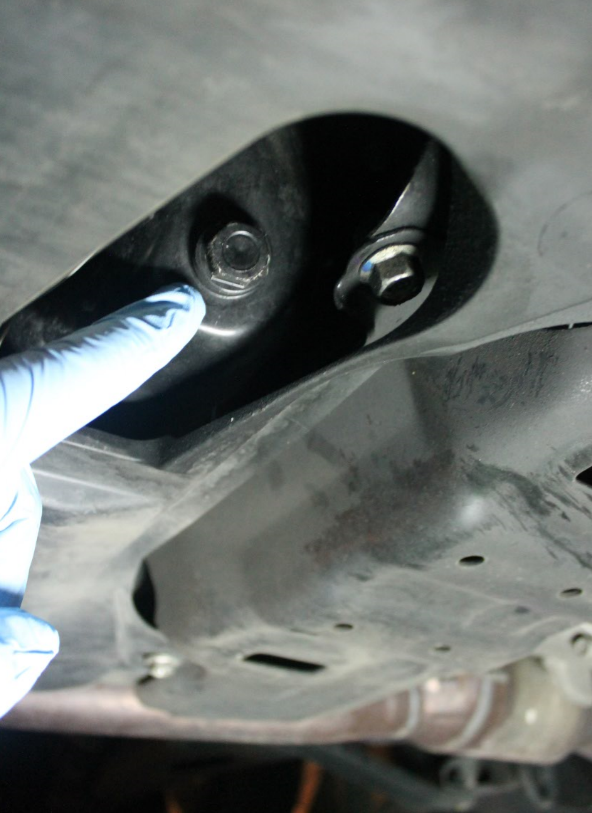 Here is the old oil after I drained it. I drain it into this green pan. That is a puddle of water not oil on the left 🙂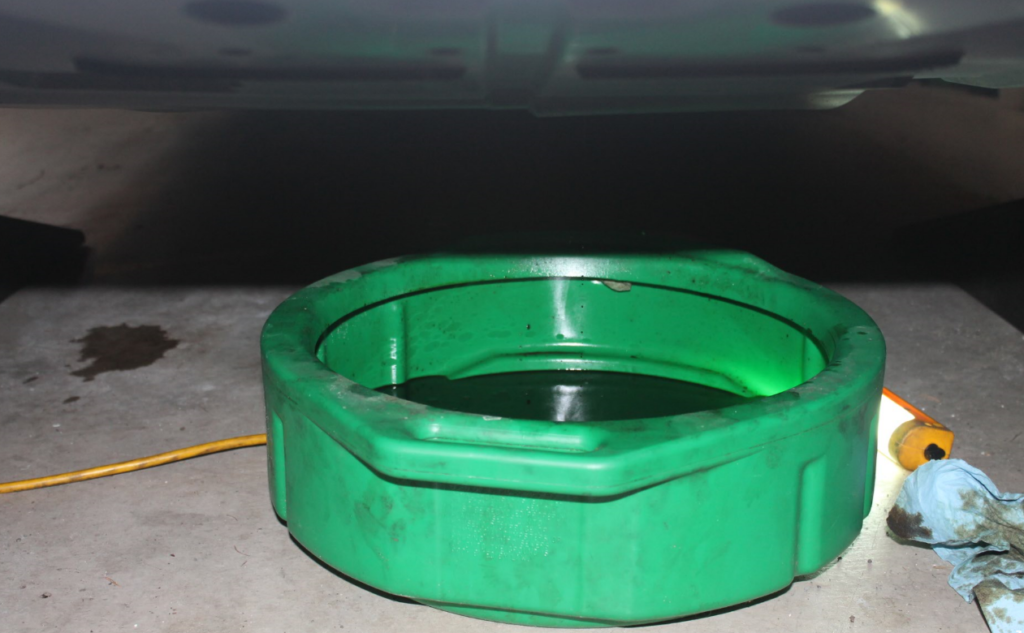 Removing the oil filter. This is one thing I love about this Subaru boxer engine. Is the oil filter is on top. It makes it nice and easy to remove. (Compared to my 4runner in which I have to go through a flap inside the fender well.)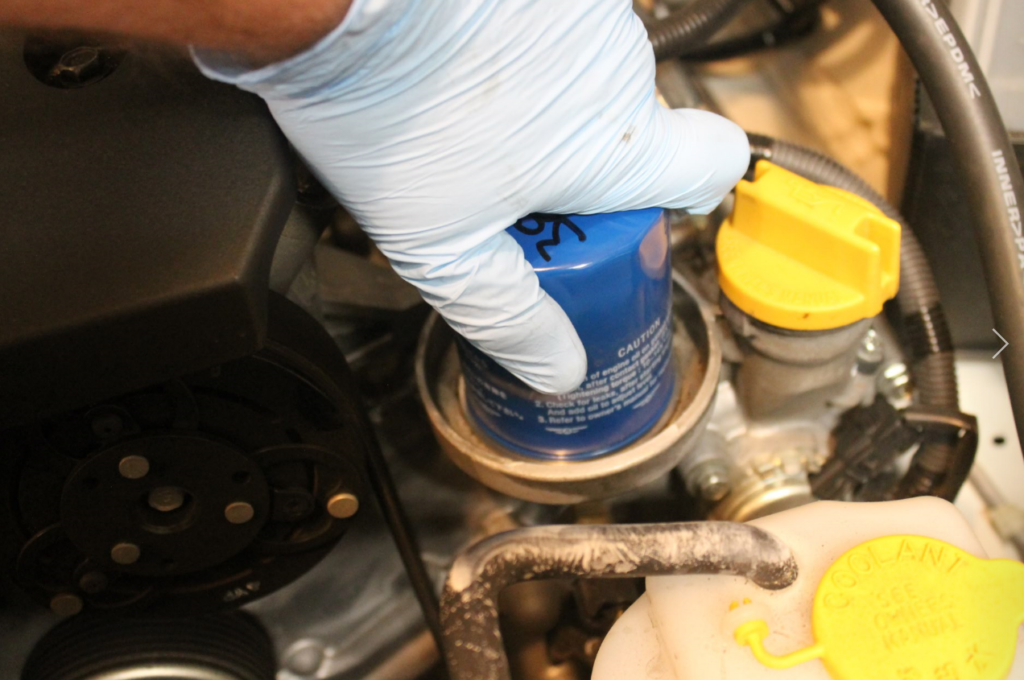 I like to clean up the filter area after removing the old one..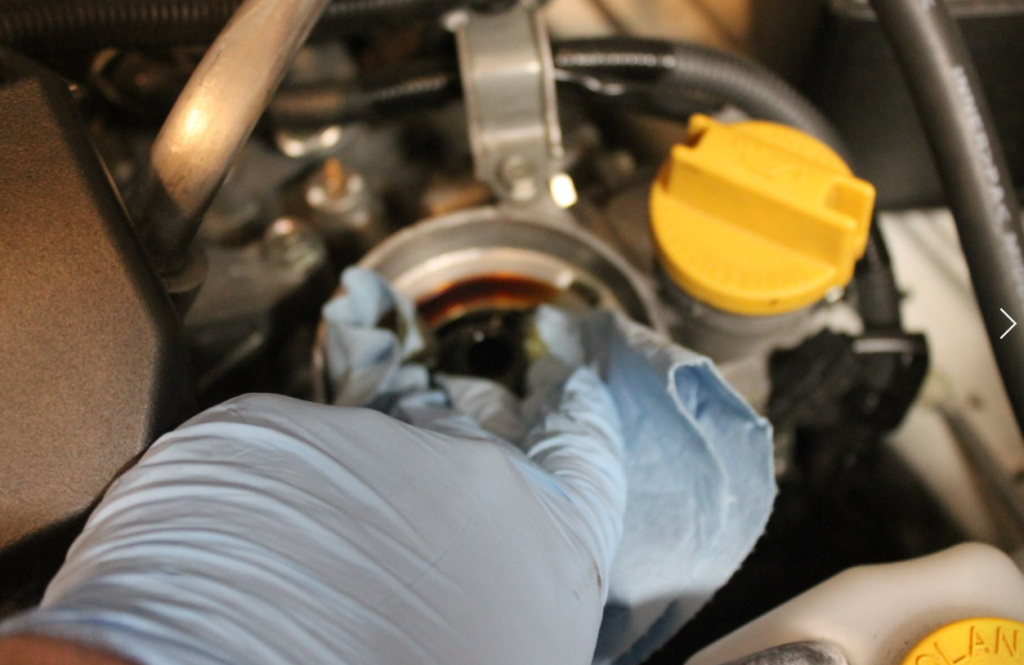 It's now Nice and shiny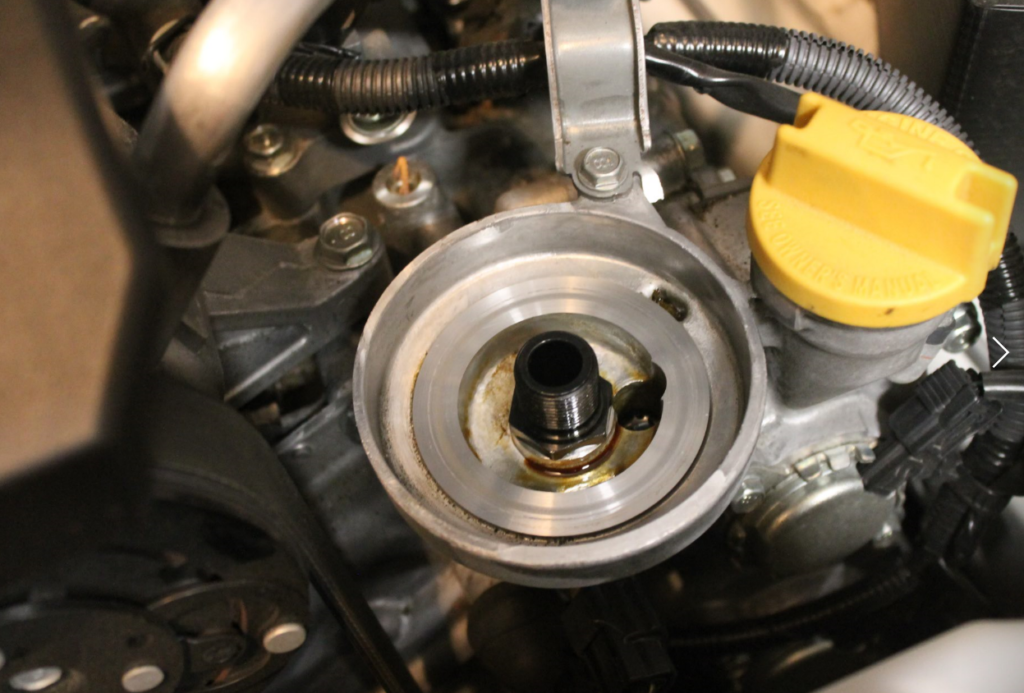 Next I apply a little oil to the new filter gasket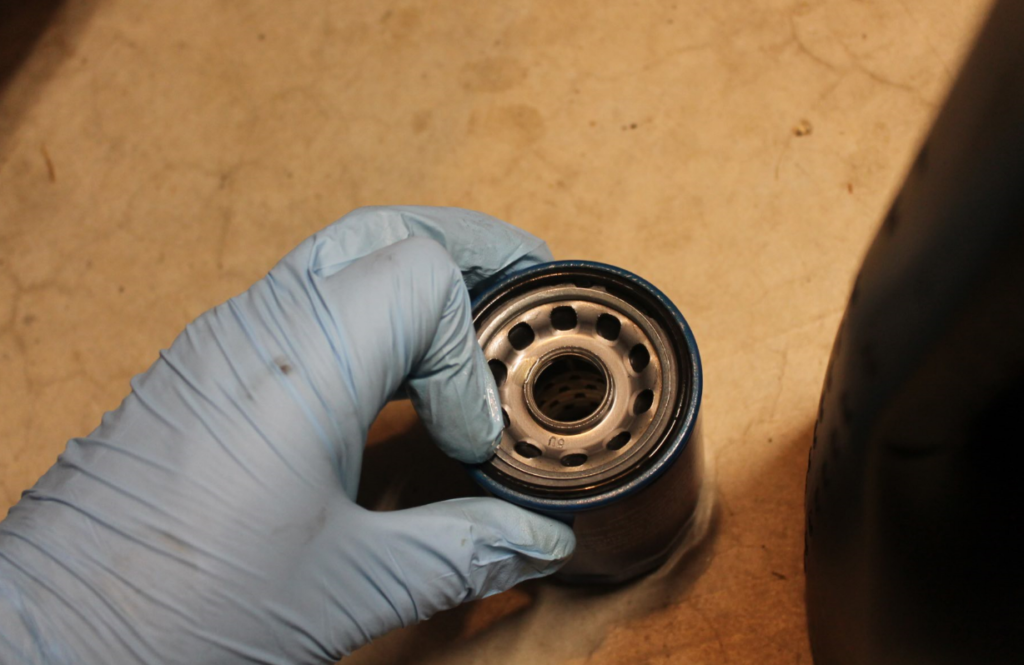 Then I put on the new filter and tighten it to 7/8 of a turn after it comes in contact with the gasket. Since this was the first time taking pictures of an oil change I noticed the filter had instructions and it said 7/8 of a turn. I was taught 3/4 of a turn after contact.  Interesting, maybe I have been doing it wrong for years…I also noticed it also has torque specs which was pretty cool. In addition to English Subaru even prints the instructions on the filter in what appears to be Japanese. ( I can't read it to be sure, maybe someone else can).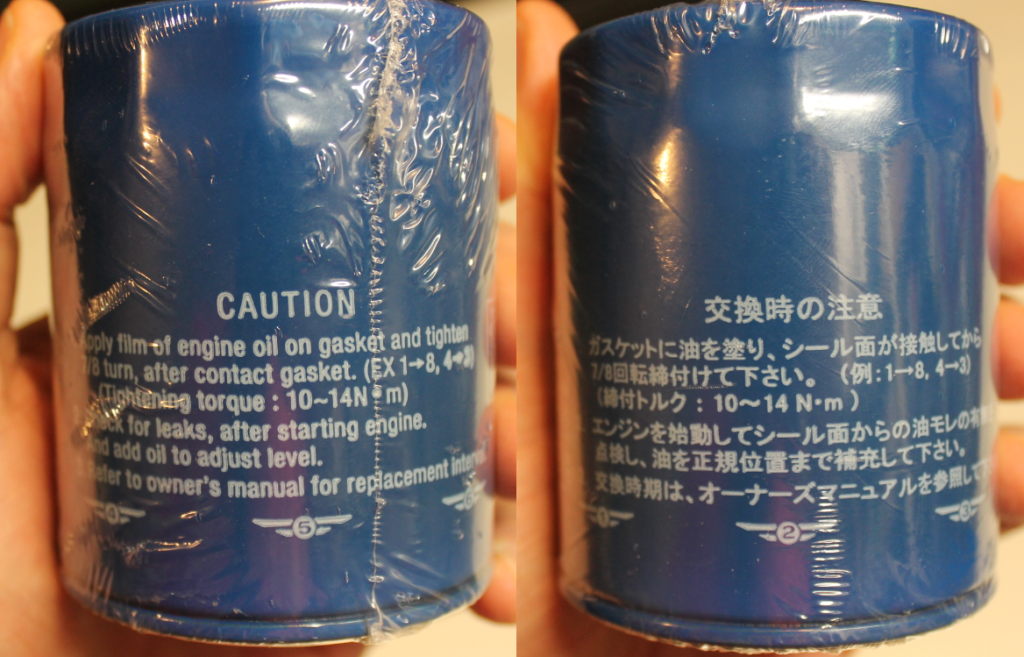 Ok, new filter is on.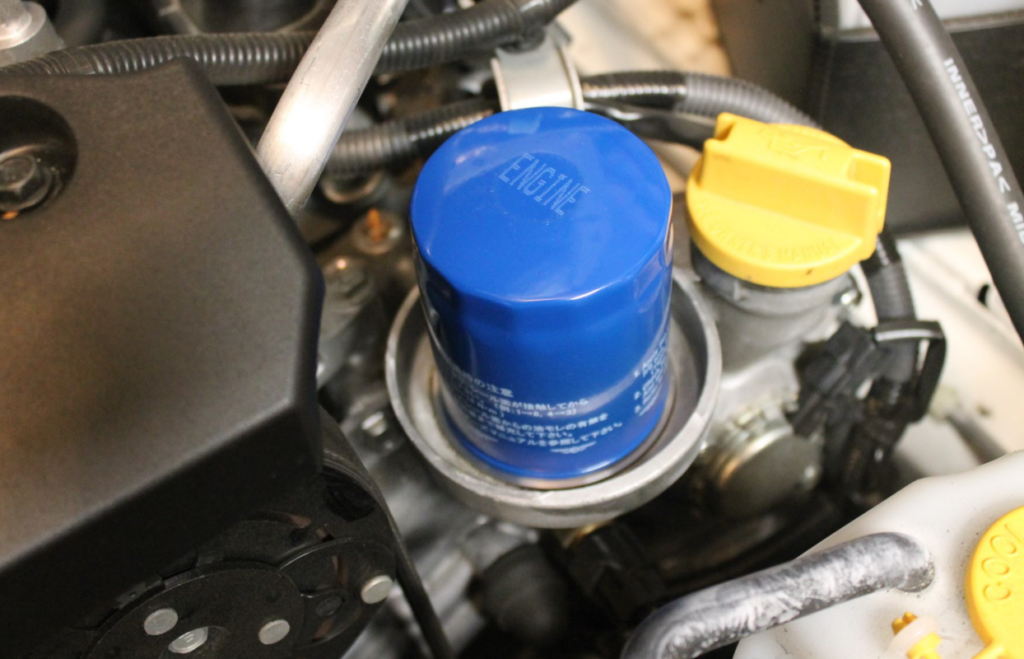 Next I put the drain plug back in.. I do not want to forget this step before adding oil. That would leave a big mess on the floor.  There is a correct torque value for this that I should probably know. But I just did it the same as I always do. [Note: Add Torque Value]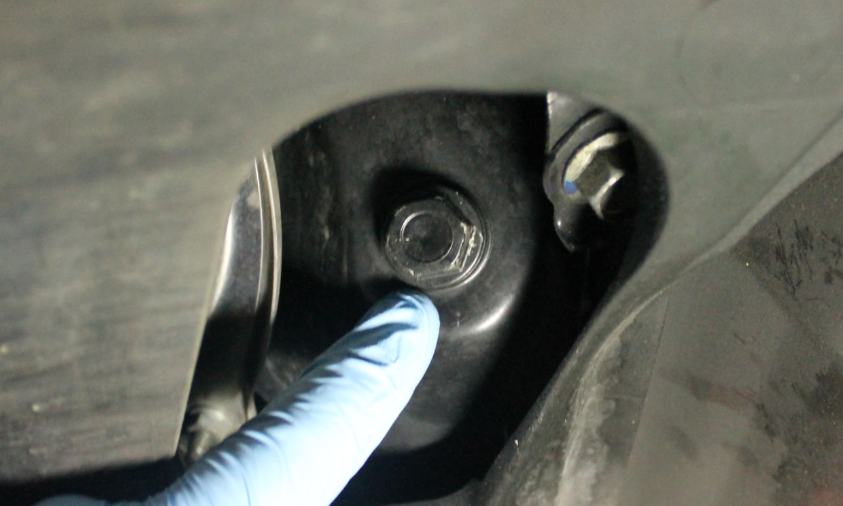 Getting ready to add the new oil…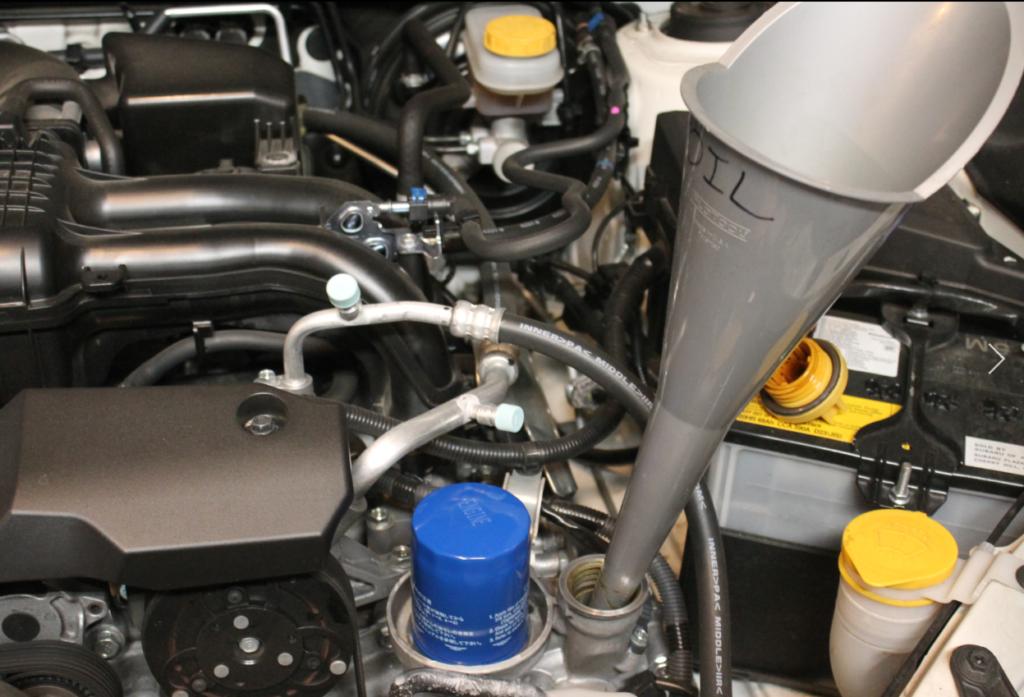 This time its Castrol Edge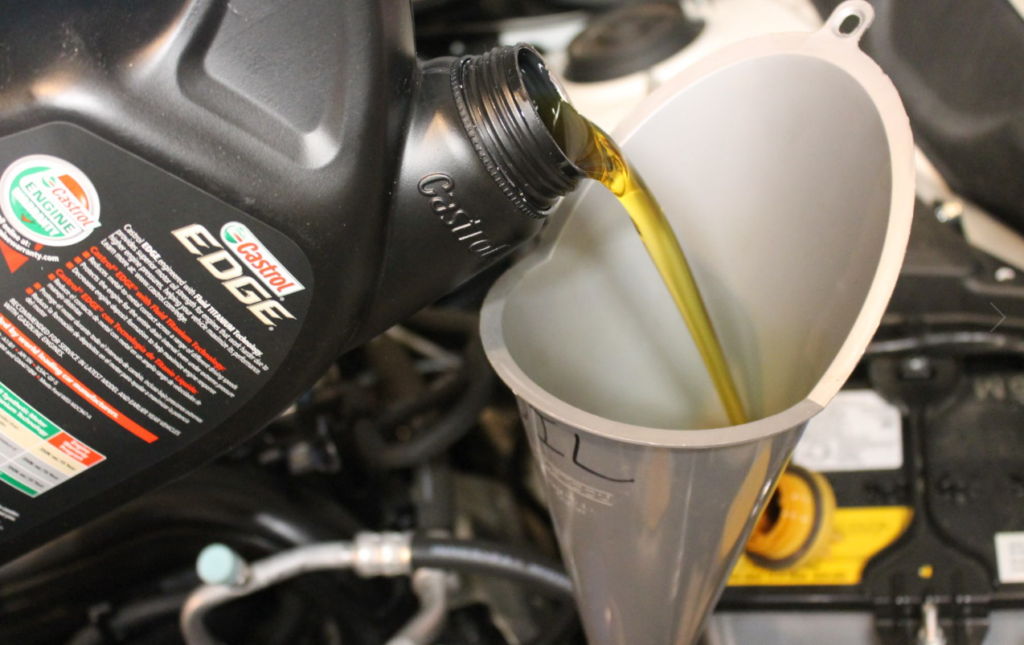 A nice closeup. You can almost smell it. I like the smell of oil for some reason.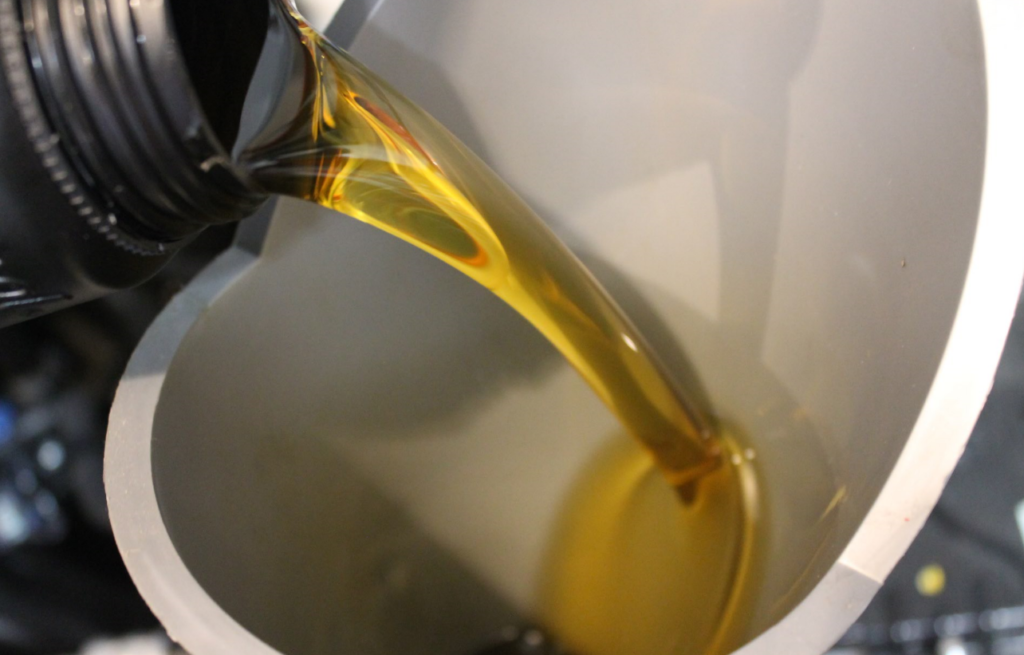 I put the oil filler cap on and that was about it for the oil change portion. I also like to label the filter with the mileage I changed the oil and date for reference.  Who stole my black sharpie! I also save receipts and have a log book of all work done on car.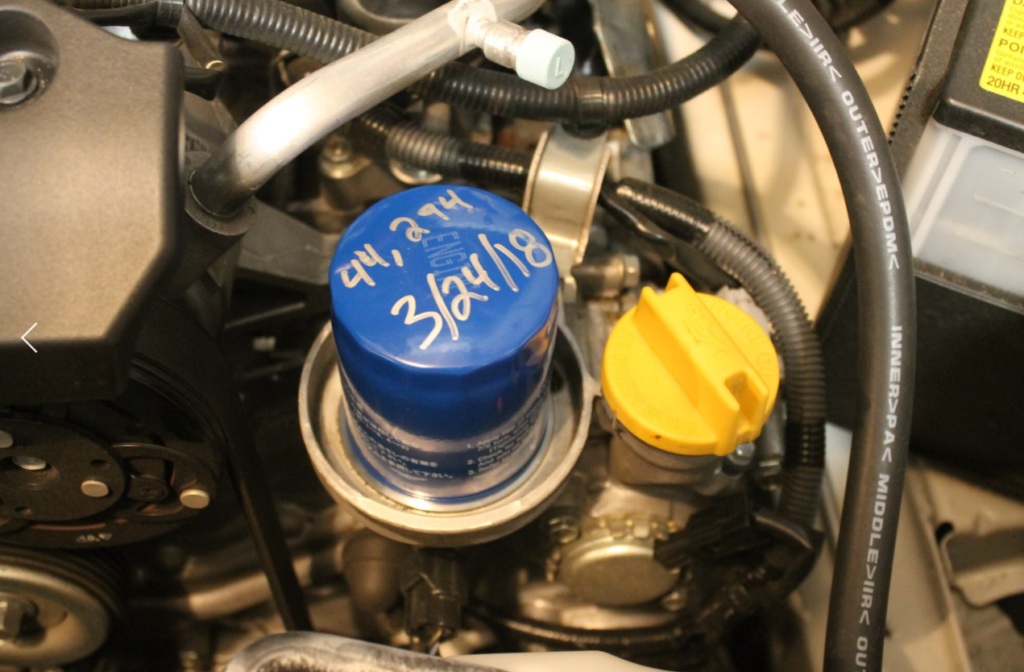 I checked for leaks, and I verified the oil level. The oil level should be between the two holes on the dipstick. Hard to see but it was right in the middle. I added just a little more oil to put it at the top hole.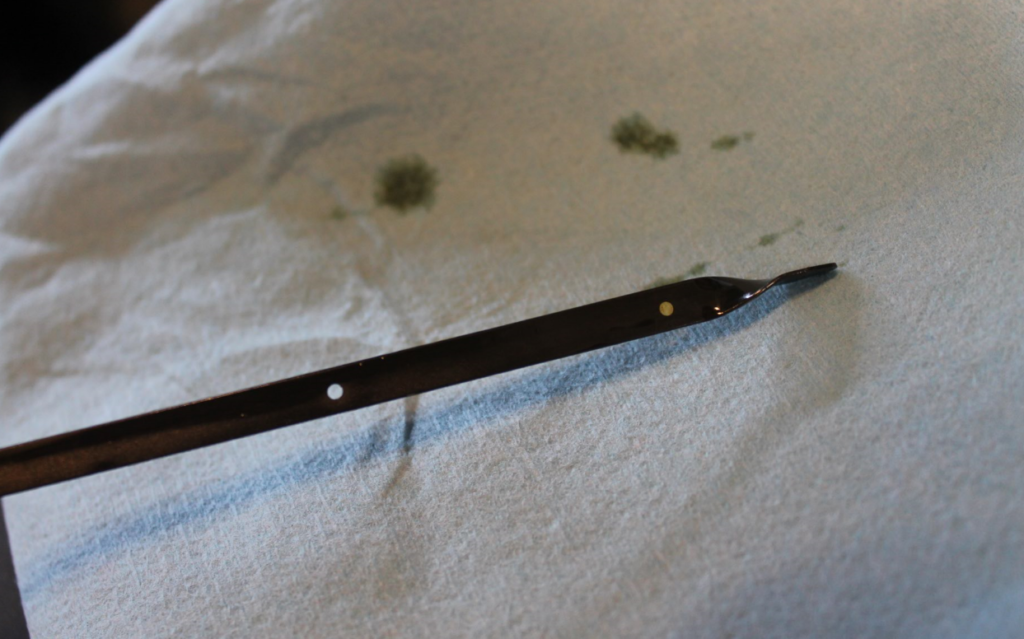 Here is the final picture.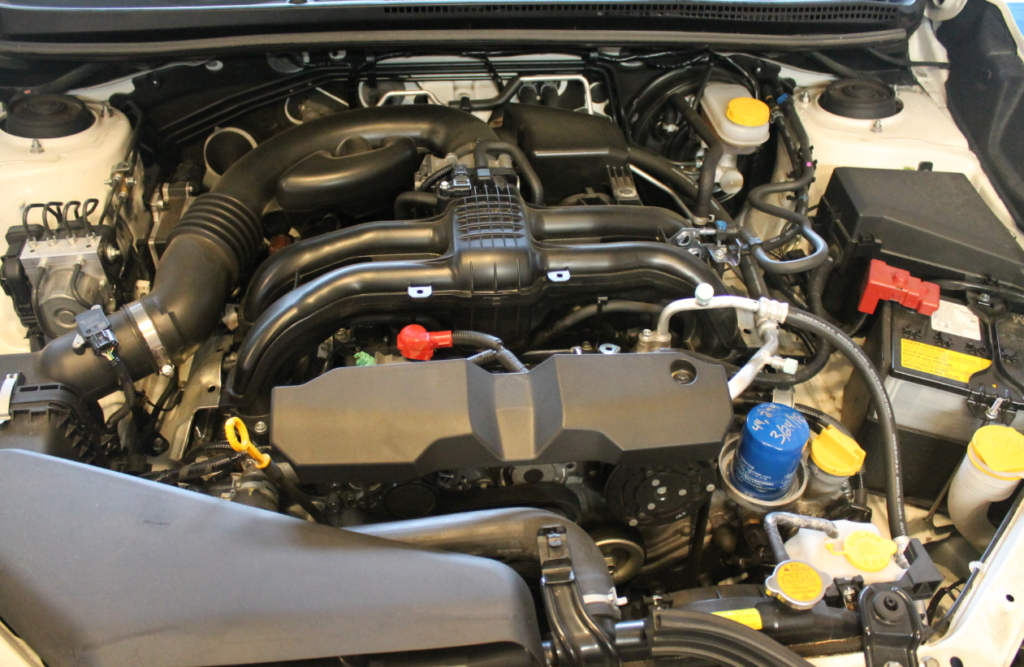 Thanks for stopping by the blog. Feel free to comment below.
I am learning a lot with this blog by trial and error. Plus let me know if you don't like the long post and prefer the load time of maybe splitting posts into a few pages. This post had 19 decent quality pictures. It appears Google takes load time into it calculations when choosing the order for its search engine. Maybe that's why so many people split it up into multiple pages.